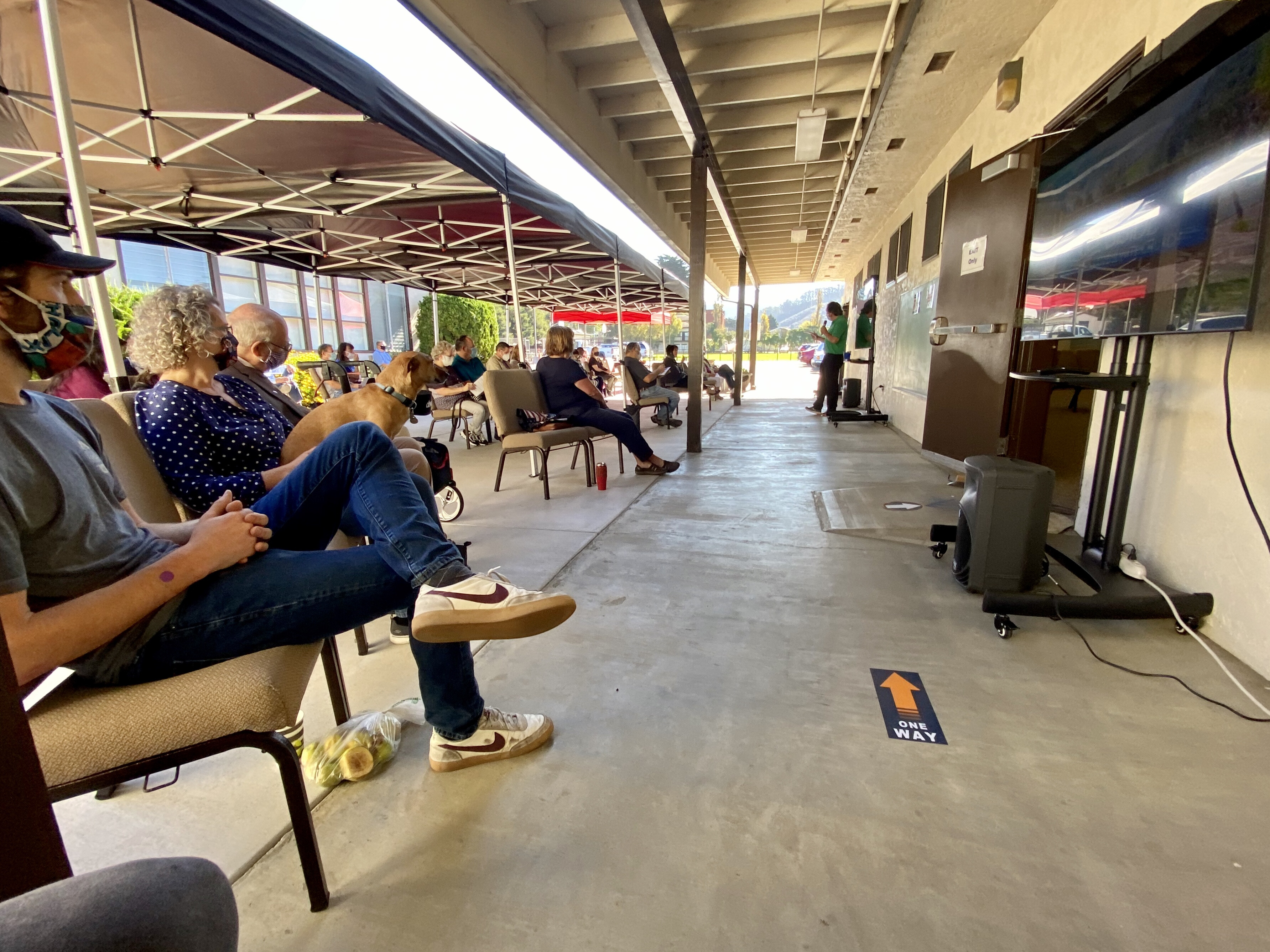 On Sunday morning at 10:45am we all gather outside of Stetson Hall for our worship service. Children join the adults for the first 15 minutes of singing and are then dismissed to children's church for more time learning about God's Word while having fun together.
We want you to feel welcomed and comfortable so please feel free to dress casually. You will be greeted with a smile when you arrive. If you'd like, you'll find coffee, tea and some snacks available for you at our in-house Coastside Cafe.
The beginning of the worship service includes guitar/keyboard-driven Christian worship music, led by our Worship Team. Words are projected on a screen, so join us in singing!

A few times during the singing, leaders may lead us in quiet prayer and meditation on Scripture. This part of the gathering will conclude with a time of giving (as our guest, please do not feel pressured to contribute to the offering), announcements, and a "Say hello to the person sitting next to you" time.
At this time (approximately 15 minutes) we typically dismiss our younger children to their classes. We would ask that one adult walk them to their class and sign them in if it is their first time with us.
After this, a New North pastor, (or sometimes a guest speaker) will give a 35-40 minute sermon. Typically, our sermons are exegetical, which means we teach verse by verse through different books of the Bible, explaining what that particular passage might mean for us today. Our teachings are very practical for everyday life.
If you would like prayer after the worship service, there will be people in the front of the room who will be happy to pray with you.
We end no later than 12:15 pm.
It is our desire that you feel at ease and comfortable with us at Coastside Community Church. We hope you will sense the love of the Lord and you enjoy our friendly and caring community.